As a high-complexity CLIA accredited laboratory, we assist clinicians and health care providers quickly identify the pathogens and underlying causes of disease. We offer a variety of panels for our clients' testing needs. Our coronavirus panel is one such option.
Types of Pathogens Detected
While COVID-19 is certainly the virus that is on everyone's mind, there are other types of coronaviruses out there. Our coronavirus panel detects a few different pathogens, including:
COVID-19
Coronavirus 229E
Coronavirus HKU1
Coronavirus NL63
Coronavirus OC43
Endogenous Control
Symptoms of COVID-19
Patients experiencing the following symptoms may be affected by COVID-19 and need testing.
Fever
Cough
Shortness of Breath or Difficulty Breathing
Body Aches
Fatigue
Sore Throat
It's important to note that these symptoms may look like the flu, allergies, or the common cold.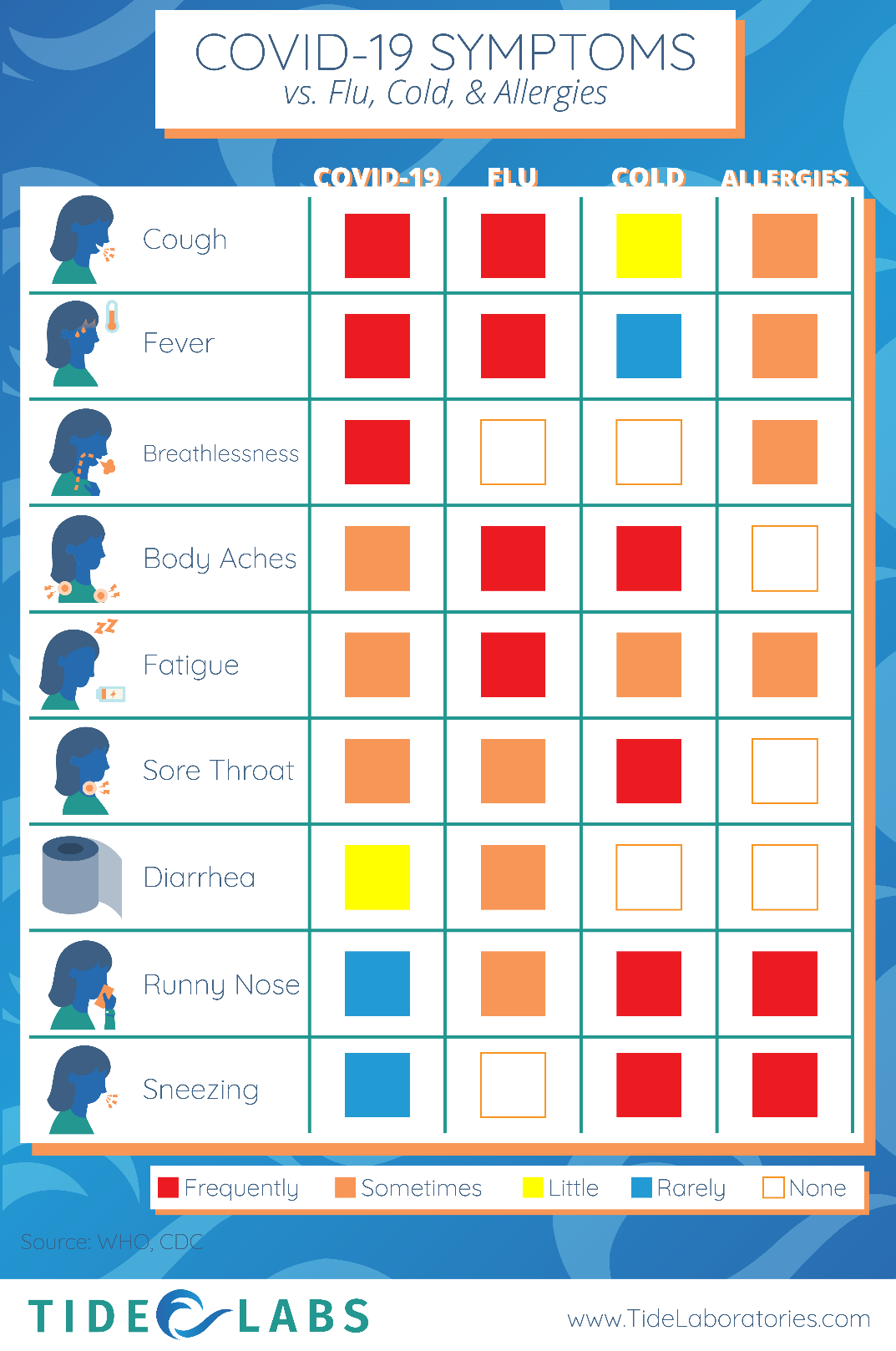 How do COVID-19 Tests Work?
In a nutshell, COVID-19 tests work in 4 steps. First samples are collected from the patient. For most coronavirus tests this is through a nasal swab. Next, a clinical laboratory extracts genetic material from the sample using chemical reagents.
The test then tries to replicate the genetic material using short sequences of single-stranded nucleic acid, called primers. If the primers match and replicate the viral DNA, then the test is positive. If not, then the test is negative. Either way, the test results are sent to your healthcare provider. At Tide Labs, lab results are uploaded into our state-of-the-art laboratory information system, so that your doctor as the results as quickly as possible.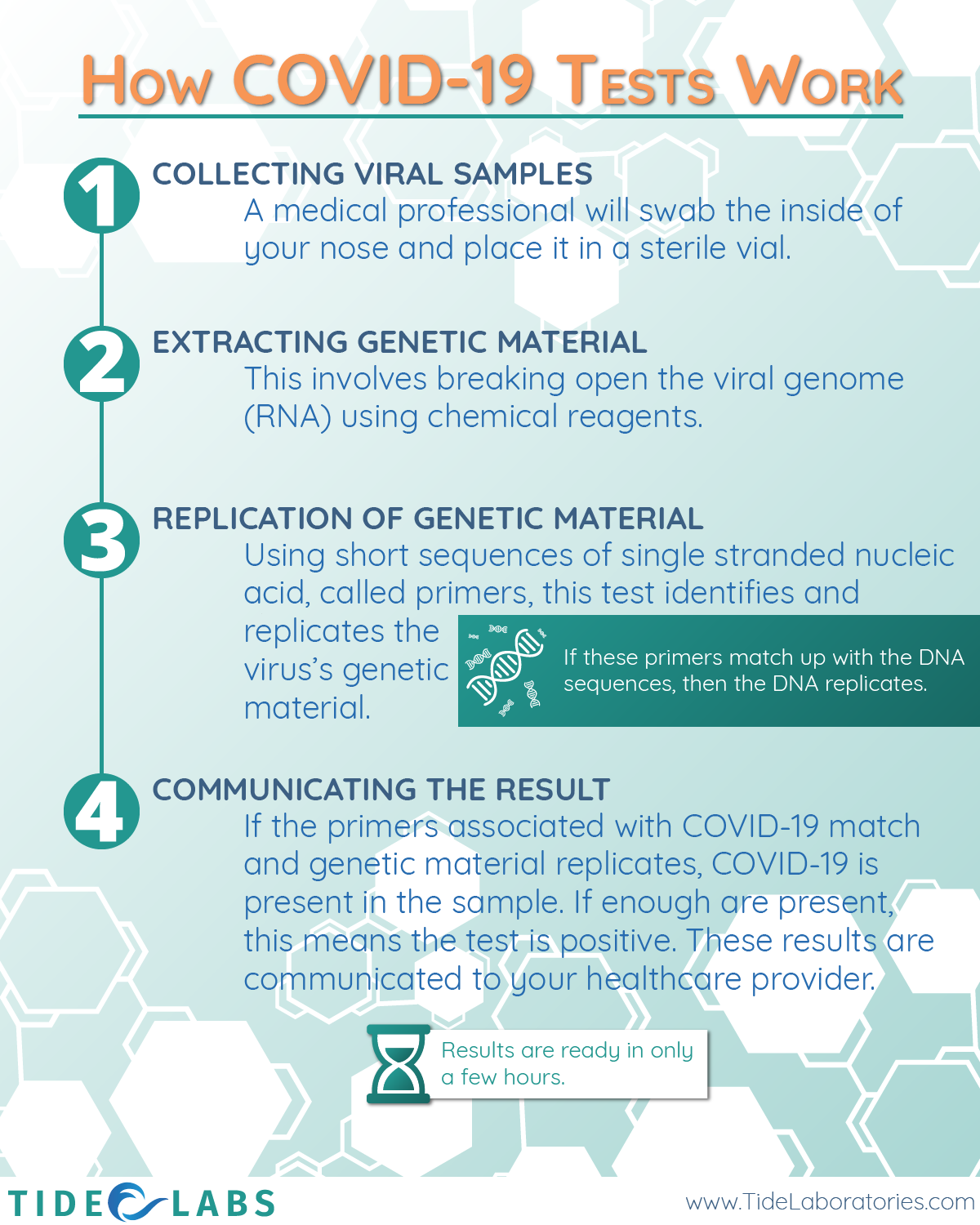 For more details on each step, check out our article here.
When Should a PCR Test Be Chosen Over an Antibody Test?
If your healthcare provider believes that your symptoms are signs of a coronavirus, your health care provider will likely choose a PCR test to confirm. PCR tests look for virus-specific RNA within a patient to detect whether or not they are positive.
If you are no longer showing symptoms, your healthcare provider may ask you to take an antibody test. Antibody tests are used to detect whether a patient has been exposed to a virus. Antibodies are proteins that are induced by an infection (or vaccine) that are created to fight of the infection. A blood sample is often used for this type of test, and these tests should generally not be used to check for a current infection. Learn more about PCR test and Antibody test for COVID-19 on our website.
Why Choose Tide Labs for COVID-19 Testing?
Now you can provide patients with the quickest and most accurate diagnosis possible! At Tide Labs, our PCR testing offers a variety of benefits. Our testing process will offer your patients with an expedited result, thanks to the use of molecular diagnostics. PCR testing offers unmatched accuracy, meaning your patients can trust the result. Our collection methods are simple and our experienced laboratory staff is ready to help.
Contact us today for coronavirus testing by calling (256) 445-5000!