Cervical Cancer Awareness
January is Cervical Cancer Awareness Month. We at Tide are here to educate you about the risks and symptoms of Cervical Cancer, as well as the importance of routine screening. Cancer has affected a significant number of people's lives in some way and there is a constant push to find a cure. In 2020 there were 1,806,590 reported new cancer cases in the United States alone. From that total, 13,800 were reported cases of cervical and uterine cancer, of which 4,290 cases were fatal.
What you Need to Know About Cervical Cancer
All women are at risk for Cervical Cancer and it most often occurs in those over the age of 30. Currently, cervical cancer affects about 1 in 125 American women. Cervical Cancer starts in the cell lining of the cervix, which is the lower part of the uterus, also referred to as the womb. Just as there are many different cancers, there are different types of cervical cancer as well.
According to the American Cancer Society, The three most common types of cervical cancer are squamous cell carcinoma and adenocarcinoma.
Most (up to 9 out of 10) cervical cancers are squamous cell carcinomas. These cancers develop from cells in the exocervix. Squamous cell carcinomas most often begin in the transformation zone (where the exocervix joins the endocervix).
Most of the other cervical cancers are adenocarcinomas. Adenocarcinomas are cancers that develop from glandular cells. Cervical adenocarcinoma develops from the mucus-producing gland cells of the endocervix.
Less commonly, cervical cancers have features of both squamous cell carcinomas and adenocarcinomas. These are called adenosquamous carcinomasor mixed carcinomas
What are the Causes and Risk Factors for Cervical Cancer?
Recent research has seen a great deal of progress in identifying the causes and risk factors of Cervical Cancer. As research advances in identifying these common factors it is also helping women everywhere to detect it early, leading to greater survival and recovery rates.
The most common causes and risk factors for Cervical Cancer are:
Genetics: Like many different types of cancers, can be caused by genetic DNA mutations that can turn on oncogenes or turn off tumor suppressor genes.
Human papillomaviruses (HPV) – A common virus that can be sexually transmitted from one person to another. there are many different types of HPV and some types can cause cervical cancer because the virus has two proteins known as E6 and E7 that can switch off tumor suppressor genes and allow overgrowth of the cells lining in the cervix, which can potentially lead to cancer.
HIV – the virus that causes AIDS) or another condition that makes it hard for your body to fight off health problems.
Long-term use of some contraceptives including birth control pills (five or more years).
Giving birth to three or more children.
Multiple sexual partners or high-risk sexual behavior.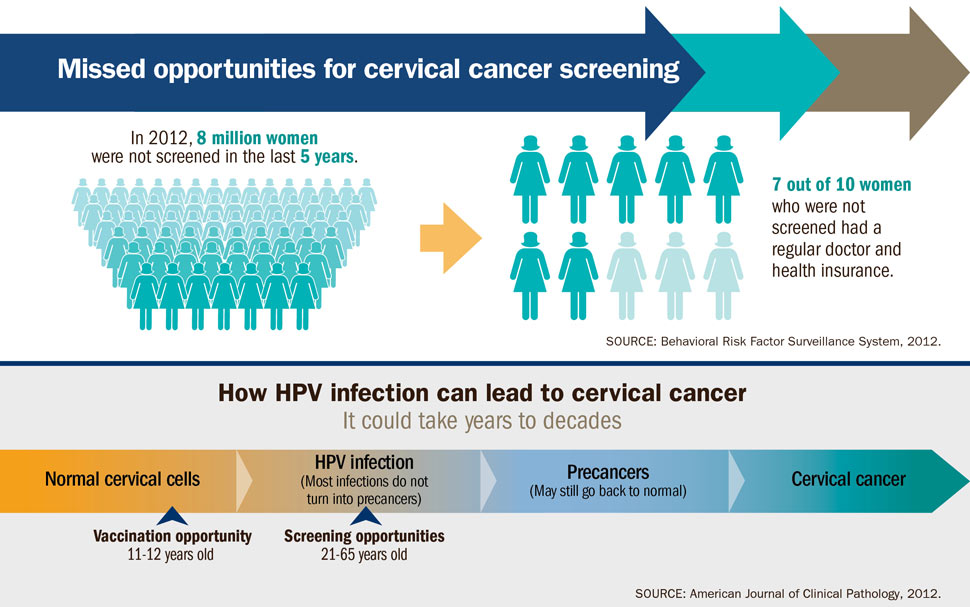 What can you do to reduce the risk of Cervical Cancer?
The most important thing you can do to reduce the risk of cervical cancer is to have regular screenings, which include PAP and HPV tests. Women, approximately ages 25-65 years old should be regularly screened every three years. Women should talk to their Primary Care Physician (PCP) or Gynecologist for more information about how the tests are performed and how to schedule an appointment. For those who may not have a PCP or Gynocologist, womenshealth.gov has great resources on how to get tested, including:
How Tide Labs Can Help in Preventing Cervical Cancer
Tide Laboratories offers Advanced Diagnostic Testing, including a Women's Health Panel, for Physicians, Clinicians, and Health Care Facilities. We enable healthcare providers to perform an accurate overall women's health screening for the prevention and detection of HPV, and STI's. Our goal is to provide clear, accurate diagnostic reports, empowering clinicians to make the most informed treatment decisions for their patients.
Tide provides a Women's health STI and HPV panel to OB/GYN clinicians that will best benefit the patient with accurate and quick results.
The benefits of Tide Lab's molecular testing Women's Health panel:
Expedited patient results
Can be performed along with PAP Smear
Identifies pathogens that are difficult to culture
Yields greater than 95% analytical sensitivity and specificity
The simplicity of a single sample collection
Direct access to experienced scientific staff
Personal customer service experience
What Pathogens does our Women's Health STI and HPV Panels Test For?
Tide Laboratories provides OB/GYN clinicians with the latest in molecular diagnostic testing, allowing for fast, accurate and comprehensive screenings across a broad spectrum of pathogens and genetically influenced conditions.
The following Pathogens Detected are:
[row][column size="col-md-6″]
Pathogens:
Atopobium vaginae
BVAB2
Candida albicans
Candida glabrata
Candida parapsilosis
Candida tropicalis
Escherichia coli
Enterococcus faecalis
Gardnerella vaginalis
Lactobacillus crispatus
Lactobacillus iners
Lactobacillus jensenii
Mycoplasma hominis
Megasphaera 1 & 2
Streptococcus agalactiae
Staphylococcus aureus
Ureaplasma urealyticum
[/column][column size="col-md-6″]
STI Panel:
Chlamydia trachomatis
Gardnerella vaginalis
Haemophilus ducreyi
Herpes simplex 1
Herpes simplex 2
Mycoplasma genitalium
Mycoplasma hominis
Neisseria gonorrhoeae
Treponema pallidum
Trichomonas vaginalis
Ureaplasma urealyticum
Endogenous Control
[/column][/row]
It is so important to bring awareness to those at risk and normalize the importance of regular health screenings and proper education on the risk factors and causes of Cervical Cancer. Tide is proud to be a part of the prevention and early detection of Cervical Cancer with our Women's Health STI and HPV Panel and to bring awareness to others about Cervical Cancer, not just for the month of January but all year-round.
[button style="enigma_btn_blue" size="enigma_btn_large" btn_disable="0″ url="/contact-us/" ]Contact Us About our Women's Health Panels[/button]